Keynote Address
Thursday, November 19th, 2015
2:00 p.m. - Warner Bros. Theater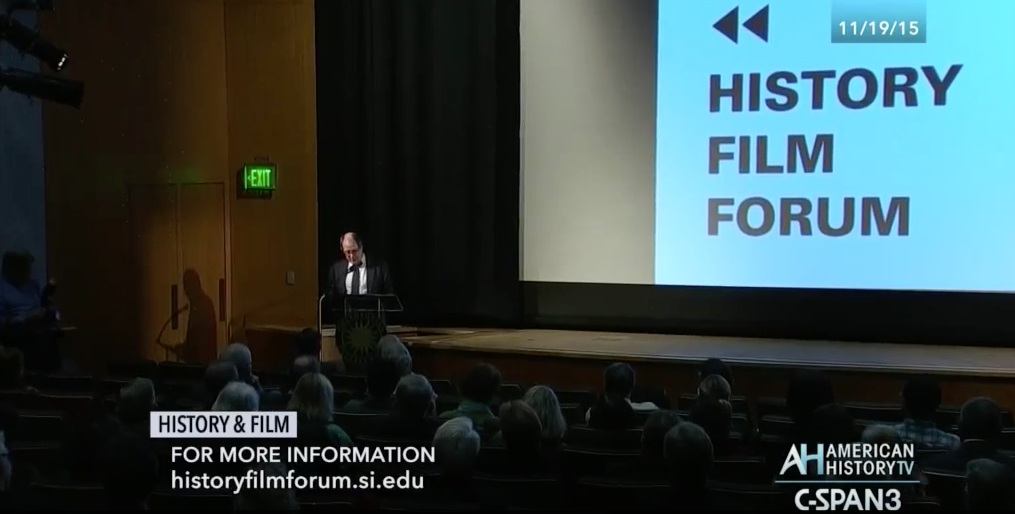 Video courtesy of C-SPAN.
The History Film Forum opens with a lecture by award-winning documentary filmmaker Ric Burns addressing society's engagement with the past through film, video, and television and how this relationship shapes public understanding of and interest in history.
Ric Burns is an internationally recognized documentary filmmaker and writer, best known for his eight-part, seventeen and a half hour series, New York: A Documentary Film, which premiered nationally on PBS to wide public and critical acclaim when broadcast in November 1999, September 2001, and September 2003.
Burns has been writing, directing and producing historical documentaries for over 20 years, since his collaboration on the celebrated PBS series The Civil War, (1990), which he produced with his brother Ken and co-wrote with Geoffrey C. Ward. Since founding Steeplechase Films in 1989, he has directed some of the most distinguished programs in the award-winning public television series, American Experience, including Coney Island (1991), The Donner Party (1992), The Way West (1995), and Ansel Adams (2002), a co-production of Steeplechase Films and Sierra Club Productions. In 2006, Burns released both Eugene O'Neill and Andy Warhol to critical acclaim. The two films garnered 2006-2007 Primetime and News and Documentary Emmy Awards for outstanding writing for non-fiction programming; Andy Warhol also received a 2006 Peabody Broadcasting Award.
In 2009, Mr. Burns completed We Shall Remain: Tecumseh's Vision, part two of a five-part history of Native America, followed by the Emmy nominated documentary Into the Deep: America, Whaling & the World in 2010, both of which aired nationally as part of WGBH Boston's American Experience.
In 2012, Mr. Burns finished Death and the Civil War, a film based on the best-selling book This Republic of Suffering: Death and the American Civil War by acclaimed historian and Harvard president Drew Gilpin Faust. The film examines the unprecedented death toll and carnage that the Civil War had on American society and government.
Mr. Burns most recently completed The Pilgrims, which will air on PBS on November 25, 2015 and will explore the lives of the Mayflower's passengers, connecting the 17th century Atlantic World and the Pilgrims' experience and ideals with how contemporary America understands itself and its past.
Burns was educated at Columbia University and Cambridge University. He lives in New York City with his wife and two sons.
Speakers
Ric Burns – 2015, Documentary Filmmaker and Writer
Ric Burns: Keynote Address from the Smithsonian History Film Forum