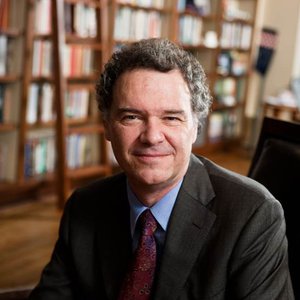 Ed Ayers – 2015
The History Guys, Professor of the Humanities and President, Emeritus, University of Richmond
Edward Ayers is President Emeritus of the University of Richmond, where he now serves as Tucker-Boatwright Professor of the Humanities.  A historian of the American South, Ayers has written and edited 10 books. A pioneer in digital history, Ayers created "The Valley of the Shadow: Two Communities in the American Civil War," a website that has attracted millions of users and won major prizes in the teaching of history. He serves as co-editor of the Atlas of the Historical Geography of the United States at the University of Richmond's Digital Scholarship Lab and is a co-host of BackStory with the American History Guys, a nationally syndicated radio show and podcast, partially funded by a grant from the National Endowment for the Humanities.
Ayers has received a presidential appointment to the National Council on the Humanities, served as a Fulbright professor in the Netherlands, and been elected to the American Academy of Arts and Sciences.

Events
Saturday, March 11th, 2017


1:30 p.m. - Warner Bros. Theater
From balancing chemical reactions to analyzing famous literature, never before has one video collection offered such a range of content. Since 2011, brothers John and Hank Green have pioneered digital education with their series Crash Course, which has more than 5 million subscribers on YouTube. From science to literature to American and world history, Crash Course offers it all in quick-paced, imaginative videos aimed at learners of all ages. This panel of Crash Course producers provides a look behind the scenes of using this innovative YouTube series to teach history.
Sunday, November 22nd, 2015


5:00 p.m. - Warner Bros. Theater
This year marks the 100th anniversary of D.W. Griffith's controversial and monumental work, THE BIRTH OF A NATION. As perhaps the best example of the power of history film to affect public understanding of the past, the Forum will examine the film and what it means a century later as well as what lessons we can draw for the creation of history film today. The discussion will be hosted by Backstory with the American History Guys, a weekly, national public radio program and podcast produced by the Virginia Foundation for the Humanities, in discussion with artists, scholars, and the live audience.
Friday, March 10th, 2017


1:00 p.m. - Warner Bros. Theater
In his keynote address at the inaugural History Film Forum in 2015, filmmaker Ric Burns said "When you traffic in film and history, fiction or nonfiction, you are borrowing the authority and power and majesty of the real and counting on its potency to lift your tale. You, therefore, have a contract with the audience whether you know it or not: you're going to take them as close to a truth as you can, no matter what the limitations are that get in your way." This session looks at the responsibilities of filmmakers as public historians.