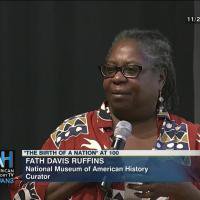 Fath Davis Rufflins – 2015
Curator, National Museum of American History
Fath Davis Ruffins is Curator of African American History and Culture in the Division of Home and Community Life at the Smithsonian's National Museum of American History in Washington D.C., where she was previously the Head of the Collection of Advertising History. She received her education from the Radcliffe Institute for Advanced Study at Harvard University, the Graduate School of Arts and Sciences at Harvard University and the National Archives' Modern Archives Institute in Washington D.C. She has been the President of the Afro-American Historical and Genealogical Society, recipient of the Award for Contribution to Scholarship from the Society for Women and Historic Preservation, and in 2009 was awarded a Research Opportunities Grant by the Smithsonian Institution to conduct research on comparative national public history in Australia.
She has published numerous essays and articles, most recently: "Black Material Culture and Community Consciousness Formation" in 1968: A Global Year of Student Driven Change (edited by Jeffrey Stewart, 2010); "The Paradox of Preservation: Gullah, Culture and Imagery" in Grass Roots: African Origins of an American Art (edited by Dale Rosengarten, Theodore Rosengarten and Enid Schildkrout, 2008); "Money Makes a Difference: The Impact of Rising Prices on African American Collecting Since 1968" in The International Review of African American Art (January, 2008); and "A Community Revealed: The Reginald F. Lewis Museum of Maryland African American History and Culture" in Curator (January, 2006).

Events
Sunday, November 22nd, 2015


5:00 p.m. - Warner Bros. Theater
This year marks the 100th anniversary of D.W. Griffith's controversial and monumental work, THE BIRTH OF A NATION. As perhaps the best example of the power of history film to affect public understanding of the past, the Forum will examine the film and what it means a century later as well as what lessons we can draw for the creation of history film today. The discussion will be hosted by Backstory with the American History Guys, a weekly, national public radio program and podcast produced by the Virginia Foundation for the Humanities, in discussion with artists, scholars, and the live audience.
Sunday, March 12th, 2017


1:00 p.m. - Warner Bros. Theater
On May 6th, 1882 – on the eve of the greatest wave of immigration in American history – President Chester A. Arthur signed into law a unique piece of federal legislation, called the Chinese Exclusion Act.   Unlike any other law in American history before or since – except for subsequent measures extending it for well more than half a century – the act uniquely singled out by name a single race and nationality for special treatment:  making it illegal for Chinese laborers to enter America on pain of imprisonment; for Chinese nationals to become citizens of the United States; and for Chinese immigrants already here to leave the country and re-enter it.
Repealed after 61 years in 1943, but still de facto in effect as late as 1968, this landmark piece of legislation – and the dramatic social, political and economic circumstances behind its enactment, implementation and eventual repeal – forms a remarkable lens through which to explore key aspects of American culture, society and evolving national identity – at a critical phase in U.S. history, as America grew from a fledgling republic to a global superpower.
A deeply American story – about immigration and national identity, civil rights and human justice; about how we define who can be an American, and what being an American means – the film will examine the economic, cultural, social, legal, racial and political dimensions of the law; the forces and events that gave rise to it; and the effect it has had, and continues to have, on American culture and identity.
Sunday, March 12th, 2017


4:00 p.m. - Warner Bros. Theater
Two years after #OscarsSoWhite began trending, the History Film Forum and The Undefeated examine the state of Black history on the screen. The African American Film Critics Association called 2016 the best year ever for black people in cinema, with films like Loving, Hidden Figures, and The Free State of Jones, along with powerful documentaries like OJ: Made in America, I am not your Negro, and 13th. We saw projects featuring African Americans in front of and behind the camera and black stories at the forefront. Despite the long standing dearth of diverse stories of the past making it to movie audiences, does this year indicate a lasting shift where we might consistently see new stories of the past on the screen?