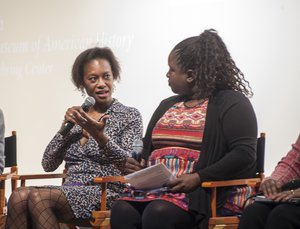 Laurens Grant – 2015
Filmmaker
Laurens Grant is a 3-time Emmy and Peabody award-winning filmmaker. She recently directed the documentary Stay Woke: The Black Lives Matter Movement for BET. She also produced The Black Panthers: Vanguard of the Revolution, which premiered at Sundance; representing her third film to premiere at this prestigious film festival. The film opened worldwide in Fall 2015 and played a remarkable 8-week run at Film Forum in New York City. It aired on PBS's Independent Lens series to record-breaking ratings on Feb. 16, 2016.
Previously, Grant Directed the documentary Jesse Owens, the first full-length documentary on the African-American sports icon. Jesse Owens won an Emmy for Outstanding Research, and received 2 Emmy nominations for Outstanding Historical – Long Form, and Outstanding Music and Sound. Grant also produced the documentary Freedom Riders which premiered at Sundance, won 3 Primetime Emmys, a Peabody, was featured on Oprah, and has influenced the Hollywood films: Selma and Lee Daniels' The Butler. Grant also co-produced two, 4-hour series for PBS, including the Emmy-winning Slavery and the Making of America: Seeds of Destruction, and Latin Music USA: The Chicano Wave. Before plunging into documentary, Grant was a foreign correspondent in Latin America. She received a Foreign Press Association Award of Merit for her coverage of Latin American politics, finance and women's rights while working as a journalist for Reuters, Newsweek, the Texas Ft. Worth Star-Telegram, the San Francisco Examiner and other publications.

Events
Saturday, March 11th, 2017


11:00 a.m. - Warner Bros. Theater
Across the top-grossing 1,100 films that debuted between 2002 and 2012, only 4.4% were created by female directors. As a study by Dr. Stacy Smith of the USC Annenberg school discovered, of 129 top grossing G, PG, and PG-13 films theatrically released between 2006 and 2011 less than 30% of all on screen speaking characters are girls or women. The ratio of males to females on the silver screen is 2.53 to 1. These statistics highlight a major problem in the world of filmmaking: the limited ability of women and women's stories to be seen or told. This panel will bring together female experts in the industry to discuss the unique challenges faced by female filmmakers, and the impact this has on historical filmmaking.
Friday, November 20th, 2015