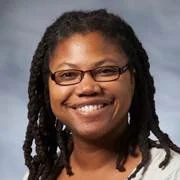 Adriane Lentz-Smith
Historian
Adriane Lentz-Smith is Associate Professor of History at Duke University, where she holds secondary appointments in Women's Studies and African & African-American Studies. A historian of the 20th-century United States, Lentz-Smith has published work on the black freedom struggle, the United States in the world and black internationalism. Her book Freedom Struggles: African Americans and World War I (Harvard, 2009) won an honor book award from the Black Caucus of the American Library Association. She is currently at work on a new book, The Laws Have Hurt Me: African Americans, State Violence, and the Legacies of the Civil Rights Movement. Lentz-Smith graduated magna cum laude from Harvard-Radcliffe and holds a PhD in history from Yale University. She lives in Durham, North Carolina, with her husband and two children.

Events
Friday, March 10th, 2017


7:00 p.m. - Warner Bros. Theater
Join us for an exclusive sneak peak of never before seen footage from the new film from PBS's American Experience series: The Great War. The Great War is a six-hour, three-night event that will premiere in April 2017 in conjunction with the 100th anniversary of America's entry into the war on April 6, 1917. Drawing on the latest scholarship, including unpublished diaries, memoirs and letters, The Great War tells the rich and complex story of World War I through the voices of nurses, journalists, aviators and the American troops who came to be known as "doughboys." The series explores the experiences of African-American and Latino soldiers, suffragists, Native-American "code talkers" and others whose participation in the war to "make the world safe for democracy" has been largely forgotten. The film is executive produced by Mark Samels and directed by award-winning filmmakers Stephen Ives, Amanda Pollak and Rob Rapley.