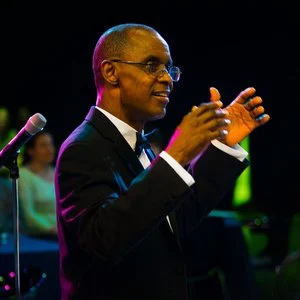 Charlie Young
Artistic Director, Smithsonian Jazz Masterworks Orchestra
Charlie Young, coordinator of jazz studies at Howard University and a professor of saxophone, officially assume the role of SJMO artistic director and conductor for the orchestra's 2013 performance schedule.
Charlie has been a member of the SJMO since 1995 and served as the ensemble's principal saxophonist for more than 15 years. He has been a member of the Duke Ellington Orchestra since 1988, serving as its conductor and is currently the lead saxophonist. Charlie and his jazz quintet presented the inaugural concert and lecture at the opening of the New American University in Cairo in 2008. His performing and recording career includes working with the National Symphony Orchestra, the U.S. Navy Band, the Count Basie Orchestra and the Seattle Symphony Orchestra. He has shared the concert stage with many of the music industry's leading icons ranging from Clark Terry and Ella Fitzgerald to Stevie Wonder and Quincy Jones in venues ranging from London's Royal Albert Hall to New York's Carnegie Hall.
He is also published on more than 30 recordings, including his latest release "So Long Ago." Charlie, a native of Norfolk, Va., studied at North Texas State University and earned his master's degree from Howard University. He is a recognized clinician in the field of jazz education as well as classical and jazz saxophone performance.

Events
Sunday, March 12th, 2017


6:00 p.m. - The Wallace H. Coulter Performance Plaza
What better way to close the History Film Forum than with jazz and history! In the late '50s, U.S. government officials eager to make a case for America's superiority to Communist regimes found a new vehicle to deliver the message to a global audience. They staged a series of global tours of top jazz musicians to showcase the popular and inclusive art form, promoting the democratic values enshrined in the music while also offsetting the backlash brewing among African Americans fed up with discrimination. The 90-minute Jazz Ambassadors*, directed by award winning filmmaker Hugo Berkeley, will showcase the overseas adventures of jazz legends such as Dizzy Gillespie, Louis Armstrong, Dave Brubeck and Duke Ellington and draw on archival footage of the performances and visits, as well as interviews with surviving musicians who toured. This program includes clips from the upcoming film, a look into the creative process, discussion with jazz scholars, archival footage and performances by the Smithsonian Jazz Masterworks Orchestra.
*Funded, in part, by a grant from the National Endowment for the Humanities