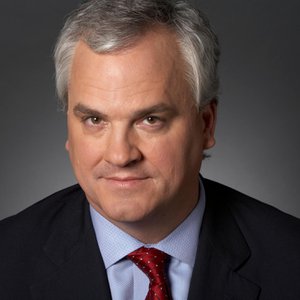 Douglas Blackmon
Douglas Blackmon's new documentary film project, The Harvest, is a look at the history and legacy of school integration in his native Leland, Mississippi. Blackmon is the Miller Center's Director of Public Programs and the Host and Executive Producer of its nationally syndicated PBS television program, American Forum.
The Harvest is based on a simple premise: Many of the children born in Mississippi in 1964—the year of the landmark Civil Rights Act of 1964—became the first Mississippi children to experience a fully integrated grades one through twelve. This group included Blackmon himself, and the film, along with an accompanying book, will explore the consequences of school desegregation for Blackmon and his classmates, as well as their community and America as a whole.
He is the Pulitzer-Prize winning author of Slavery by Another Name: The Re-Enslavement of Black Americans from the Civil War to World War II, and co-executive producer of the acclaimed PBS documentary based of the same name. His is also a contributing correspondent at The Washington Post and executive producer and host of American Forum, a public affairs program produced by the University of Virginia's Miller Center and aired on 100 public television affiliates across the U.S.
His book, a searing examination of how the enslavement of African-Americans persisted deep into the 20th century, was awarded the 2009 Pulitzer Prize for General Non-Fiction. The Slavery by Another Name documentary was broadcast in February 2012 and attracted an audience of 4.8 million viewers.
Until joining the Washington Post in 2011, Blackmon was the longtime chief of The Wall Street Journal's Atlanta bureau and the paper's Senior National Correspondent. He has written about or directed coverage of some of the most pivotal stories in American life, including the election of President Barack Obama, the rise of the tea party movement and the BP oil spill. Overseeing coverage of 11 southeastern states for the Journal, he and his team of reporters were responsible for the Journal's acclaimed coverage of Hurricane Katrina and the failed federal response after that disaster, the Journal's investigation into the training and preparations of the 9/11 hijackers in Florida, immigration, poverty, politics and daily reporting on more than 2,500 corporations based in the region.

Events
Thursday, March 9th, 2017


6:00 p.m. - Warner Bros. Theater
Join Pulitzer Prize-winning author Douglas Blackmon and Emmy-Award winning producer Sam Pollard as they are interviewed by Jeff Bieber, Vice President of Content Development and Production from WETA television, about their careers and the challenges inherent in making history films. They will share excerpts from their new film The Harvest (2017)*, a look at the legacy of school integration in Blackmon's native Leland, Mississippi. Come early to see a screening of Blackmon and Pollard's previous film Slavery by Another Name (2012)*.