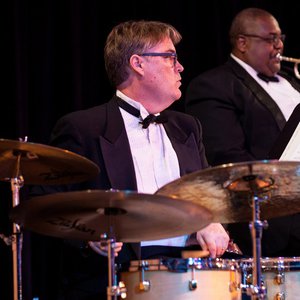 Ken Kimery
Executive Producer, Smithsonian Jazz Masterworks Orchestra and Jazz Oral History Program
Kennith R. Kimery, Executive Director of the Smithsonian Jazz Masterworks Orchestra and Jazz Oral History Program, has produced over 300 concerts in Washington, D.C.; received critical acclaim from the Washington Post; was featured in Smithsonian Magazine; and awarded "Excellence in an Artistic Discipline" at the 18th Annual Mayor's Arts Awards.
Since 1992, the SJMO has traversed the United States taking the Museum to the four corners of our country. Performing in locales ranging from Charleston, SC , Fairbanks, AK, Scottsdale, AZ , Lacrosse, WI, Providence, RI, and Houston, TX, the SJMO has reached audiences in over 40 states. Some of the many highlights include concerts at the historic Apollo Theater in 1993; Symphony Hall in Atlanta, GA for the 1996 Olympic games; nationwide in 1996 for the Smithsonian's 150th traveling exhibition and birthday celebration on the National Mall; the Washington National Cathedral for Duke Ellington's Centennial; the Monterey Jazz Festival; the Ravinia Jazz Festival in 2005-2006; and the Kennedy Center Concert Hall in 2007 for a performance of Duke Ellington's "Such Sweet Thunder" with Mercedes Ellington and Avery Brooks.
Building on its Washington, DC and national touring successes, the Orchestra embarked on its first international tour in 1999 performing in Calgary, Vancouver, Edmonton and Saskatoon, Canada; Istanbul, Turkey; The Hague, Netherlands; Vienne, Bayonne, and Antibes, France; Gijon and San Sebastian, Spain; Perugia, Italy; Pori and Helsinki, Finland; and the Barbican Theatre in London. In 2008, the Orchestra was featured at the International Association for Jazz Education conference in Toronto, Canada paying tribute to Quincy Jones and traveled to Egypt presenting concerts and educational outreach at the Pyramids, Cairo Opera, Alexandria Opera House, and the American University in Cairo. The SJMO embarked on U.S. Department of State sponsored tour to three cities in Russia as part of the U.S. – Russia Bilateral Presidential Commission in May of 2011 and Addis Ababa, Ethiopia in July of 2012.

Events
Sunday, March 12th, 2017


6:00 p.m. - The Wallace H. Coulter Performance Plaza
What better way to close the History Film Forum than with jazz and history! In the late '50s, U.S. government officials eager to make a case for America's superiority to Communist regimes found a new vehicle to deliver the message to a global audience. They staged a series of global tours of top jazz musicians to showcase the popular and inclusive art form, promoting the democratic values enshrined in the music while also offsetting the backlash brewing among African Americans fed up with discrimination. The 90-minute Jazz Ambassadors*, directed by award winning filmmaker Hugo Berkeley, will showcase the overseas adventures of jazz legends such as Dizzy Gillespie, Louis Armstrong, Dave Brubeck and Duke Ellington and draw on archival footage of the performances and visits, as well as interviews with surviving musicians who toured. This program includes clips from the upcoming film, a look into the creative process, discussion with jazz scholars, archival footage and performances by the Smithsonian Jazz Masterworks Orchestra.
*Funded, in part, by a grant from the National Endowment for the Humanities