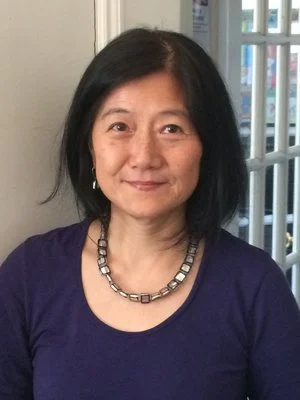 Li-Shin Yu
Li-Shin Yu, a New York-based film editor has been a long time collaborator of Ric Burns for the past twenty-three years and is co-directing The Chinese Exclusion Act.  Best known for their epic series NEW YORK: a documentary film, an eight-part production chronicling the city's rise from a remote Dutch outpost to the cultural and economic center of the world, for which Yu received a Primetime Emmy Award for Outstanding Achievement in Editing.  Their most recent film The Pilgrims, brings to life the story of the men and women of the Mayflower with a stunning performance by the late actor Roger Rees as William Bradford.  Her films with Burns include Enquiring Minds: The Untold Story of the National Enquirer, Death and the Civil War, Into the Deep: America, Whaling & the World, We Shall Remain" Tecumseh's Vision, Andy Warhol; Eugene O'Neill, Ansel Adams, The Way West.  Their films have garnered multiple awards including Emmys, Peabodys, Writer's Guild of America, Dupont-Columbia awards amongst many others.  Yu began her career collaborating with other New York independent filmmakers including Jim Jarmusch, Spike Lee, Sara Driver and Peter Wang and more recently with documentarians Christine Choy, Bill Moyers, Thomas Lennon and Stanley Nelson amongst others.

Events
Sunday, March 12th, 2017


1:00 p.m. - Warner Bros. Theater
On May 6th, 1882 – on the eve of the greatest wave of immigration in American history – President Chester A. Arthur signed into law a unique piece of federal legislation, called the Chinese Exclusion Act.   Unlike any other law in American history before or since – except for subsequent measures extending it for well more than half a century – the act uniquely singled out by name a single race and nationality for special treatment:  making it illegal for Chinese laborers to enter America on pain of imprisonment; for Chinese nationals to become citizens of the United States; and for Chinese immigrants already here to leave the country and re-enter it.
Repealed after 61 years in 1943, but still de facto in effect as late as 1968, this landmark piece of legislation – and the dramatic social, political and economic circumstances behind its enactment, implementation and eventual repeal – forms a remarkable lens through which to explore key aspects of American culture, society and evolving national identity – at a critical phase in U.S. history, as America grew from a fledgling republic to a global superpower.
A deeply American story – about immigration and national identity, civil rights and human justice; about how we define who can be an American, and what being an American means – the film will examine the economic, cultural, social, legal, racial and political dimensions of the law; the forces and events that gave rise to it; and the effect it has had, and continues to have, on American culture and identity.