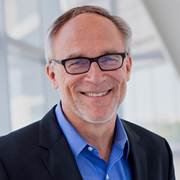 Mark Samels
Executive Producer
As executive producer of PBS' flagship history series, Mark Samels conceives, commissions and oversees all American Experience films. Samels has overseen more than 130 films, expanding both the breadth of subjects and the filmmaking style embraced by the series, allowing for more contemporary topics and more witness-driven storytelling. Beginning his career as an independent documentary filmmaker, he held production executive positions at public television stations in West Virginia and Pennsylvania before joining WGBH. Samels is a founding member of the International Documentary Association and has served as a governor of the Academy of Television Arts & Sciences. A graduate of the University of Wisconsin, Samels holds honorary Doctor of Humane Letters degrees from Emerson College and Elizabethtown College.

Events
Friday, March 10th, 2017


7:00 p.m. - Warner Bros. Theater
Join us for an exclusive sneak peak of never before seen footage from the new film from PBS's American Experience series: The Great War. The Great War is a six-hour, three-night event that will premiere in April 2017 in conjunction with the 100th anniversary of America's entry into the war on April 6, 1917. Drawing on the latest scholarship, including unpublished diaries, memoirs and letters, The Great War tells the rich and complex story of World War I through the voices of nurses, journalists, aviators and the American troops who came to be known as "doughboys." The series explores the experiences of African-American and Latino soldiers, suffragists, Native-American "code talkers" and others whose participation in the war to "make the world safe for democracy" has been largely forgotten. The film is executive produced by Mark Samels and directed by award-winning filmmakers Stephen Ives, Amanda Pollak and Rob Rapley.