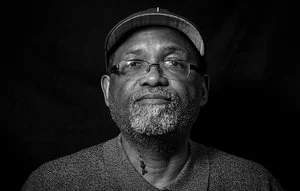 Sam Pollard
Filmmaker
Sam Pollard's professional accomplishments as a feature film and television video editor, and documentary producer/director span almost thirty years.  He recently served as Executive Producer on the documentary Brother Outsider, Official Selection 2003 Sundance Film Festival.  His first assignment as a documentary producer came in 1989 for Henry Hampton's Blackside production Eyes On The Prize II: America at the Racial Crosswords.  For one of his episodes in this series, he received an Emmy.  Eight years later, he returned to Blackside as Co-Executive Producer/Producer of Hampton's last documentary series I'll Make Me A World: Stories of African-American Artists and Community.  For the series, Mr. Pollard received The George Peabody Award.  Between 1990 and 2000, Mr. Pollard edited a number of Spike Lee's films:  Mo' Better Blues, Jungle Fever, Girl 6, Clockers, Bamboozled.  As well, Mr. Pollard and Mr. Lee co-produced a couple of documentary productions for the small and big screen:  Spike Lee Presents Mike Tyson, a biographical sketch for HBO for which Mr. Pollard received an Emmy, and Four Little Girls, a feature-length documentary about the 1965 Birmingham church bombings which was nominated for an Academy Award.
Mr. Pollard began this journey in 1972 as an apprentice in a WNET-sponsored film-training workshop.  Under the tutelage of a number of veterans in independent filmmaking, he spent the remainder of the 1970s polishing his editing skills on everything from celebrity profiles to Dateline: Israel, a film series about the history of Jerusalem.  His feature experience as an editor started in the mid- 1970s with films like Just Crazy About Horses, Body and Soul, Private Resort and Style Wars.  In between films, throughout the 1980s, he edited for the highly acclaimed children's programs NBC's Vegetable Soup and The Children's Television Workshop's 3-2-1-Contact for which he received two Emmys.  In the early 1990s, there was Fires In The Mirror, a performance art film directed by George Wolfe, starring Anna Deveare Smith.  In 1993, he produced for The American Experience a documentary called, Goin' Back to T-Town, about life in a black community in Tulsa, Oklahoma during legal segregation.  From time to time, he serves on advisory committees for the National Endowment for the Humanities; National Endowment for the Arts; or the Independent Television Service (ITVS).

Events
Thursday, March 9th, 2017

Screening - Slavery by Another Name (2012) *, Sam Pollard
3:00 p.m. - Warner Bros. Theater
Slavery by Another Name recounts how in the years following the Civil War, insidious new forms of forced labor emerged in the American South, keeping hundreds of thousands of African Americans in bondage, trapping them in a brutal system that would persist until the onset of World War II. Based on Douglas Blackmon's research, Slavery by Another Name spans eight decades, from 1865 to 1945, revealing the interlocking forces in both the South and the North that enabled this "neoslavery" to begin and persist. Using archival photographs and dramatic re-enactments filmed on location in Alabama and Georgia, it tells the forgotten stories of both victims and perpetrators of neoslavery and includes interviews with their descendants living today. Features a discussion with filmmaker Sam Pollard and writer Sheila Curran Bernard.
Thursday, March 9th, 2017


6:00 p.m. - Warner Bros. Theater
Join Pulitzer Prize-winning author Douglas Blackmon and Emmy-Award winning producer Sam Pollard as they are interviewed by Jeff Bieber, Vice President of Content Development and Production from WETA television, about their careers and the challenges inherent in making history films. They will share excerpts from their new film The Harvest (2017)*, a look at the legacy of school integration in Blackmon's native Leland, Mississippi. Come early to see a screening of Blackmon and Pollard's previous film Slavery by Another Name (2012)*.
Sunday, March 12th, 2017


4:00 p.m. - Warner Bros. Theater
Two years after #OscarsSoWhite began trending, the History Film Forum and The Undefeated examine the state of Black history on the screen. The African American Film Critics Association called 2016 the best year ever for black people in cinema, with films like Loving, Hidden Figures, and The Free State of Jones, along with powerful documentaries like OJ: Made in America, I am not your Negro, and 13th. We saw projects featuring African Americans in front of and behind the camera and black stories at the forefront. Despite the long standing dearth of diverse stories of the past making it to movie audiences, does this year indicate a lasting shift where we might consistently see new stories of the past on the screen?