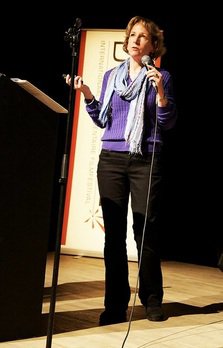 Sheila Curran Bernard
Writer/Producer
Sheila Curran Bernard is an Emmy and Peabody Award-winning writer and producer on projects for film, television, stage, print, and the web. In 2016, she was honored with a prestigious New York Foundation for the Arts (NYFA) Fellowship in Playwriting/Screenwriting, as well as its Geri Ashur Screenwriting Award.
Bernard's credits include nearly 50 hours of broadcast and theatrical programming. She was involved with six major nonfiction series for Blackside, Inc. in Boston, including Eyes on the Prize; I'll Make Me a World; and America's War on Poverty. Other PBS credits include School: The Story of American Public Education and films for American Experience, and Slavery by Another Name, a 90-minute film based on the Pulitzer Prize-winning book by Douglas A. Blackmon. Also currently in distribution are two projects on which she consultated: Jerusalem, filmed for IMAX and giant screen theaters in 3D and 2D; and Inside Story, a dramatic feature that won the 2014 South African Film & Television awards for "Best Writing Team" and "Best Director" (Rolie Nikiwe), produced as the centerpiece of a global media-based HIV prevention endeavor.
Bernard is the author of Documentary Storytelling, a pioneering work on the use of dramatic storytelling tools to strengthen nonfiction media. Now in its fourth edition, the book has been translated into Portuguese, Korean, Chinese, Polish and Japanese. With Kenn Rabin, she is also the author of Archival Storytelling, a look at the challenges media makers face in finding and licensing third-party visuals and music.
She has been a juror for the National Academy of Television Arts and Sciences, Sheffield DocFest, Camerimage and others, and has reviewed funding proposals for agencies including the National Endowment for the Humanities. She has been honored with residencies at the MacDowell Colony for the Arts and the Virginia Center for the Creative Arts.
In 2005, Bernard served as the Anschutz Distinguished Fellow in American Studies at Princeton University. Since 2008 she's been a faculty member at the University at Albany, State University of New York.

Events
Friday, March 10th, 2017


1:00 p.m. - Warner Bros. Theater
In his keynote address at the inaugural History Film Forum in 2015, filmmaker Ric Burns said "When you traffic in film and history, fiction or nonfiction, you are borrowing the authority and power and majesty of the real and counting on its potency to lift your tale. You, therefore, have a contract with the audience whether you know it or not: you're going to take them as close to a truth as you can, no matter what the limitations are that get in your way." This session looks at the responsibilities of filmmakers as public historians.