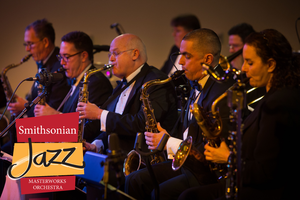 Smithsonian Jazz Masterworks Orchestra
In 1990 the U.S. Congress, recognizing the importance of jazz in American culture, authorized the establishment of the Smithsonian Jazz Masterworks Orchestra (SJMO) as the orchestra-in-residence at the Smithsonian's National Museum of American History.
Whether a 17-member big band, quartet, septet, or small group, the SJMO presents concerts featuring transcribed works, new arrangements, commissioned works and programs that illuminate the work of jazz masters who contributed to the development of American jazz and defined the music's character.

Events
Sunday, March 12th, 2017


6:00 p.m. - The Wallace H. Coulter Performance Plaza
What better way to close the History Film Forum than with jazz and history! In the late '50s, U.S. government officials eager to make a case for America's superiority to Communist regimes found a new vehicle to deliver the message to a global audience. They staged a series of global tours of top jazz musicians to showcase the popular and inclusive art form, promoting the democratic values enshrined in the music while also offsetting the backlash brewing among African Americans fed up with discrimination. The 90-minute Jazz Ambassadors*, directed by award winning filmmaker Hugo Berkeley, will showcase the overseas adventures of jazz legends such as Dizzy Gillespie, Louis Armstrong, Dave Brubeck and Duke Ellington and draw on archival footage of the performances and visits, as well as interviews with surviving musicians who toured. This program includes clips from the upcoming film, a look into the creative process, discussion with jazz scholars, archival footage and performances by the Smithsonian Jazz Masterworks Orchestra.
*Funded, in part, by a grant from the National Endowment for the Humanities