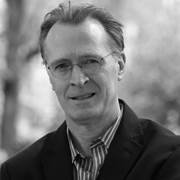 Stephen Ives
Producer
In his more than 20 years of work in public television, Stephen Ives has established himself as one of the nation's leading independent documentary directors. His landmark series THE WEST was one of the most-watched PBS programs of all time. In 1987, Ives began a decade-long collaboration with filmmaker Ken Burns as a co-producer of a history of the United States Congress and as a consulting producer on the groundbreaking series THE CIVIL WAR and BASEBALL.
After the premiere of THE WEST, Ives turned his attention towards contemporary films, producing a profile of the Cornerstone Theater Company, which aired on HBO in the fall of 1999, and "Amato: A Love Affair with Opera," which aired on PBS in 2001 and earned Ives a nomination from the Directors Guild of America for Outstanding Directorial Achievement. His profile of 1930s thoroughbred "Seabiscuit" (AMERICAN EXPERIENCE, 2003) won a Primetime Emmy Award, and his PBS series REPORTING AMERICA AT WAR, about American war correspondents, was described by the Los Angeles Times as "television that matters…a visual document of power and clarity."
His other films for AMERICAN EXPERIENCE include "Lindbergh," "Las Vegas," "New Orleans," "Kit Carson," "Roads to Memphis," "Panama Canal," "Custer's Last Stand," "Grand Coulee Dam," "1964" and "The Big Burn."

Events
Friday, March 10th, 2017


7:00 p.m. - Warner Bros. Theater
Join us for an exclusive sneak peak of never before seen footage from the new film from PBS's American Experience series: The Great War. The Great War is a six-hour, three-night event that will premiere in April 2017 in conjunction with the 100th anniversary of America's entry into the war on April 6, 1917. Drawing on the latest scholarship, including unpublished diaries, memoirs and letters, The Great War tells the rich and complex story of World War I through the voices of nurses, journalists, aviators and the American troops who came to be known as "doughboys." The series explores the experiences of African-American and Latino soldiers, suffragists, Native-American "code talkers" and others whose participation in the war to "make the world safe for democracy" has been largely forgotten. The film is executive produced by Mark Samels and directed by award-winning filmmakers Stephen Ives, Amanda Pollak and Rob Rapley.