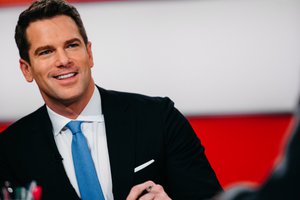 Thomas Roberts
MSNBC Host
Thomas Roberts is an Emmy Award-winning MSNBC Host who serves as fill-in anchor on "Today" and "NBC Nightly News with Lester Holt."
Previously, Roberts was the host of "MSNBC Live with Thomas Roberts," MSNBC's "Way Too Early" and contributor on "Morning Joe." Roberts was made an official member of MSNBC's dayside team in December 2010, after having served as a freelance anchor for several months.
Prior to his addition to MSNBC's team, Roberts served as a correspondent for CBS News. He also contributed to several entertainment shows including "Entertainment Tonight" and "The Insider." Before that, Roberts was a news anchor for "CNN Headline News."
In 2016, Roberts won an Emmy for his coverage of the Supreme Court decision on same sex marriage. He made history in 2015 by becoming the first openly gay anchor on a network evening newscast when he anchored a broadcast of NBC Nightly News.
Roberts has also been honored for his work as an advocate in the LGBT community, and is the recipient of the prestigious GLAAD Vito Russo Award in May 2015. In 2014 his report on "Gay Rights at Work" was honored with a GLAAD Media Award for Outstanding TV Journalism Segment. Additionally, he received the Visibility Award from the Human Rights Campaign in October 2011 and has been honored by the Stonewall Community Foundation, Marriage Equality USA and The National Crime Victim Bar Association. In 2002, Roberts received an Emmy nomination and a Virginia Associated Press award for his work on the documentary, Parvo Puppies. In 2001, he received an Edward R. Murrow award for a documentary that he produced titled, When Parents Don't Pay.
In the fall of 2012, Roberts married his longtime partner, Patrick Abner in New York City.  The service was officiated by Gavin Newsom the Lieutenant Governor of California.
Roberts is a graduate of McDaniel College (formerly Western Maryland College). He resides in New York City with his husband and dog.

Events
Thursday, March 9th, 2017


7:30 p.m. - Warner Bros. Theater
The History Film Forum takes an inside look at the NBC drama "Timeless." Each week, "Timeless" takes viewers back in time through America's rich history to reflect upon the lesser known details of monumental moments that have shaped our country. The adventures of the "Time Team," which consists of a female historian, a Delta Force soldier and an African American scientist, provide a gateway for conversation around the impact of race, gender and politics throughout the centuries on America. Through the storytelling of the series, "Timeless" has ignited in its fans a curiosity and passion for history, making it feel exciting, current and relevant, while providing families with a show they can watch, discuss and enjoy together. Join us for a screening of the episode "The Assassination of Abraham Lincoln," followed by a moderated panel discussion by MSNBC's Thomas Roberts with executive producers and showrunners Shawn Ryan ("The Shield") & Eric Kripke ("Supernatural"), stars Abigail Spencer ("Rectify"), Matt Lanter ("Pitch Perfect 3") & Malcolm Barrett ("The Hurt Locker") and Georgetown University scholar Brian Taylor.