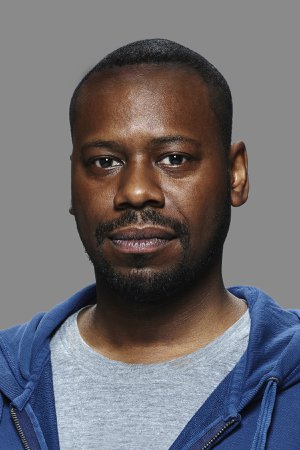 Malcolm Barrett
Actor
Malcolm Barrett plays Rufus Carlin in the NBC drama "Timeless."
Malcolm Barrett, a.k.a. Verbal the Rapper, is an actor/songwriter best known for his roles as Sgt. Foster in THE HURT LOCKER, Helmut West in DEAR WHITE PEOPLE, and Dwalu in MY BEST FRIEND'S GIRL. Barrett's other film work includes roles in FRESNO, BACHELOR NIGHT (to which he contributed several songs), AN AMERICAN IN HOLLYWOOD (to which he also contributed songs), OJ: THE MUSICAL, PEEPLES, MISSED CONNECTIONS, LARRY CROWNE and AMERICAN VIOLET.
In the world of television Barrett has appeared on numerous critically acclaimed series the likes of which include: THE OFFICE, BETTER OFF TED, KEY AND PEELE, KROLL SHOW, GARFUNKEL AND OATES, NERD COURT, THE MENTALIST, SOUTHLAND, MONK, THE SOUL MAN, GHOST WHISPERER, LAW & ORDER, THE SOPRANOS, and many other series.
Malcolm received his equity membership at the age of 16 when he appeared in the McCarter Theater production of THE STONEMASON. He won a 2014 Ovation Award for lead actor in the play THE RECOMMENDATION. He is also known for his music, poetry, improvisation, and standup comedy. He was a member of the 2001 Nuyorican Slam Poetry team and the winner of the Young Playwright competition at Manhattan Class Company. He is co-founder and artistic director of the nonprofit LA-based theater company Ammunition Theatre Company.
Barrett is a native of New York City and studied at NYU's Tisch School of the Arts.

Events
Thursday, March 9th, 2017


7:30 p.m. - Warner Bros. Theater
The History Film Forum takes an inside look at the NBC drama "Timeless." Each week, "Timeless" takes viewers back in time through America's rich history to reflect upon the lesser known details of monumental moments that have shaped our country. The adventures of the "Time Team," which consists of a female historian, a Delta Force soldier and an African American scientist, provide a gateway for conversation around the impact of race, gender and politics throughout the centuries on America. Through the storytelling of the series, "Timeless" has ignited in its fans a curiosity and passion for history, making it feel exciting, current and relevant, while providing families with a show they can watch, discuss and enjoy together. Join us for a screening of the episode "The Assassination of Abraham Lincoln," followed by a moderated panel discussion by MSNBC's Thomas Roberts with executive producers and showrunners Shawn Ryan ("The Shield") & Eric Kripke ("Supernatural"), stars Abigail Spencer ("Rectify"), Matt Lanter ("Pitch Perfect 3") & Malcolm Barrett ("The Hurt Locker") and Georgetown University scholar Brian Taylor.